GTO/PRO SW3000XL Automatic Swing Gate Operator Series
The GTO/SW3000XL Model Residential Swing Electric Gate Openers for light commercial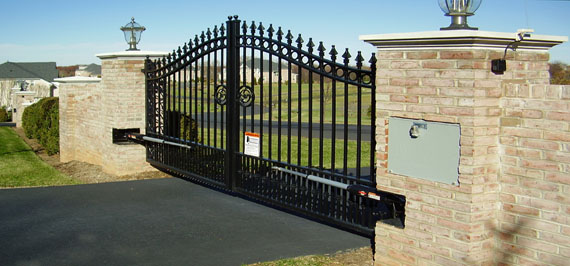 Description

List Price

Our Price:

Buy Now

SW3000XL

Single Gate Opener Kit
GTO/PRO SW3000XL- Free Shipping!


$950.00

Discontinued

SW3200XL

Slave Unit Only
GTO/PRO SW3200XL
(Use with above for Double Drive Gate)

$585.00

Discontinued

347IH

Push-to-Open 11" Post Pivot Bracket

$56.50

$23.06
Guaranteed Lowest Prices on the Internet
Features of the Pro SW3000XL Automatic Gate Opener
Handles gates up to 16' (4.88 m) long, up to 650 lbs. (226.8 kg) each leaf.
Full systems capable "add on ready" heavy-duty control board includes adjustable obstruction sensing, gate sequencing, and auto closing settings (0-120 seconds).
High cycle capability with true soft start and stop operation.
New sleek design with continental appeal
Full access ready package includes battery, radio receiver, entry transmitter, AC transformer, and all necessary mounting hardware for a complete installation.
Accommodates push or pull-to-open installations.
Solar option available
UL Rated for Class I, II, III and IV system certified to be in compliance with UL 325, 4th edition.
GTO/PRO SW3000XL Automatic Gate Operator

---
GTO/PRO SW3000/SW3200 (FMSW3200) dual swing gate system. The GTO/PRO SW3200XL works as a "slave" automatic gate operator when installed with the GTO/PRO SW3000XL. The PRO SW3200 will work on gates that are 3.5 ft. to 16 ft. in length, and weighing up to 650 lb. The PRO SW3200XL wires into the "master" control box; the control board can be programmed for dual gate operation and the sequencing of the two gates. The PRO SW3200XL includes: operator arm w/ 50 ft. power cable, second operator wiring harness, mounting hardware, caution signs.
Guaranteed Lowest Prices on the Internet


Note: This model cannot accommodate column mounting when the distance of
lines A & B (in picture above) combined length is greater than 14 inches.
The GTO/PRO SW4000XL can accommodate the combined length over 14 inches.
Technical Specifications
DRIVE

Powered by a resilient 12 vt. DC motor.
Temperature rating of motor: -30 F To160 F
Opening time is 18-20 seconds.
Range of arm stroke is up to 24". Operator length with arm fully retracted is 39", mounting point to mounting point.

POWER

The PRO SW3000 system is powered by a 12 volt DC /7.0 amp hour, sealed, rechargeable battery.
Battery charge maintained by a 120 V AC/60 HTZ input and 18 V AC at 40. output, transformer certified to 14 V DC through the GTO Control Board.

NOTE: Transformer should never be connected directly to any Battery.

Optional: GTO Solar Panel Charger: Float voltage 14.5 V DC output from a 19-3/8" x 15-1/4" silicon alloy panel. Generates minimum of 10 watts at 600 mA. A gated diode on the control board prevents battery discharge.
---
CONTROLS

The GTO control board can be programmed for pull-to-open or push-to-open.
Adjustable Auto Close, obstruction sensitivity and dual gate sequencing.

Auto-memorization of digital transmitter code.
Changing regulated circuit on control board. "Sleep draw" is 40 mA; "Active draw" is 2 to 5 amps.

GTO remote-mounted RF receiver tuned at 318 MHZ.
---
OPERATIONAL CAPACITY The PRO-SW3000 will handle gates weighing up to 650 lbs. and up to 16ft. in length if all proper installation procedures have been followed. Note that ball bearing hinges should be used on all gates weighing over 250 lbs.

GATE CAPACITY CHART (Estimated number of cycles per day based on use with a transformer

| | | | | |
| --- | --- | --- | --- | --- |
| 650 lb. | 120 | 110 | 100 | 90 |
| 500 lb. | 130 | 120 | 110 | 100 |
| 400 lb. | 140 | 130 | 120 | 110 |
| 300 lb. | 150 | 140 | 130 | 120 |
| 200 lb. | 160 | 150 | 140 | 130 |
| 150 lb. | 170 | 160 | 150 | 140 |
| 100 lb. | 180 | 170 | 160 | 150 |
| 50 lb. | 190 | 180 | 170 | 160 |
| | UP to 10 ft | 12 ft. | 14 ft. | 16 ft |