The GTO Sliding Gate Operators is designed for light commercial application. This powerful sliding gate operators can make opening you chainlink slide gate more efficient and add the ease of entrance to your home or business.
GTO PRO SL-2000B


Housing Dimensions:
Height: 18" Width: 211/2" Depth: 11"

Benefits:

Durable residential or light commercial slide gate operator
Inherent battery back up
Transmitter and radio receiver included
Post mount for easy installation – 4 ft. posts provided
Chain disconnect for manual operation
Designed to address applications up to 100 cycles per day
Large 24 Ah battery kit with tray required for higher cycle or solar applications (FP295)
Dual Gates require additional operator
Pad mounting plate (SGMP) *Sold Separately
Works on all types of gates;* chain link, tube, panel, ornamental, wood and vinyl.
U.L. rated for Class I, II, III & IV. System certified to be in compliance with U.L. 325, 5th edition.
Battery Included

Includes:
Control Box with Control Board, Motor Assembly, and Battery
(1) 32' Drive Chain (RB207)
(1) 18 Vac Transformer 120 Volt (RB570)
(1) Receiver (AQ202)
(1) GTO Transmitter (RB741)
(1) Operator Housing (A207)
(2) Chain Master Links (RB208)
(2) Chain Brackets (204IH)
(2) Quick Release Pins (211IH)
(2) 2" square x 48" long legs (206IH)
(2) GTO Warning Signs
(4) 1/4"-20 x 1/2" Screws (RB226)
(4) 3/8" Lock Washers (RB641)
(4) 3/8" -16 x 3" Carriage Bolts (RB659)
(4) 3/8"-16 x 2" diameter U-Bolts & (8) 3/8" Serrated Nuts (RB210)

Limited Two Year Warranty
GTO/PRO DC powered gate operators are warranted by the manufacturer against defects in materials and manufacturer workmanship for a period of two (2) years from date of purchase, provided recommended installation procedures have been followed.

The GTO/PRO SL-2000B will handle gates weighing up to 1000 lb. (453.4 kg) and up to 30 ft. (9.14 m) in length (per leaf) if the proper installation procedures have been followed. Note that ball bearing rollers and covers should be used on all gates.


The GTO/PRO SL-2000B series operators are capable of high volume cycling; however, the total cycles per day will depend on the motor current and efficiency of the gate installation (see chart below).


Cycles shown are for single gate, dual gates will get approximately half as many cycles.
Guaranteed Lowest Price!!!! Call 800.878.7829!!
Now offering FREE SHIPPING on all GTO Operators!
| | | | |
| --- | --- | --- | --- |
| Description | List Price | Our Price | Buy Now |
| GTO/PRO-SL2000B Brake Model (Master) | Call For Pricing | Call For Pricing | |
| GTO/PRO-SL2200B Brake Model (slave) | Call For Pricing | Call For Pricing | |
| SGMP Mounting Pad (For Concrete mounting) | Call For Pricing | Call For Pricing | |
Guaranteed Lowest Prices ... We beat all competition
The GTO/PRO Sliding Gate Operators Operator is designed for chain link, ornamental iron, and tubular steel gates. This gate opener is battery powered; the battery charge is maintained by either the AC Transformer (included) or the Solar Panel. The battery acts as its own backup during a loss of power service and will provide power for many gate opening and closing cycles before needing a recharge.

The heavy duty, 14 V AC 40 VA transformer can provide enough power for continuous cycling! While solar panels are an option, and will provide many cycles per day, they will not provide enough power for continuous cycle duty. You must use the transformer for continuous cycle duty.

The GTO/PRO SL2000B automatic sliding gate operator line includes operators for both single and dual installations. GTO/PRO slide gate openers have adjustable auto-close and obstruction sensing features.

GTO offers a full line of accessories for your operator such as Entry Transmitters, Digital Keypads, Concrete Mounting Pad, Solar Panels, etc. GTO/PRO sliding gate operators are also "add-on ready" for more sophisticated options such as exit loops, card readers, exit wands, and more.

All GTO/PRO Automatic Gate Openers are covered by a Two Year Warranty.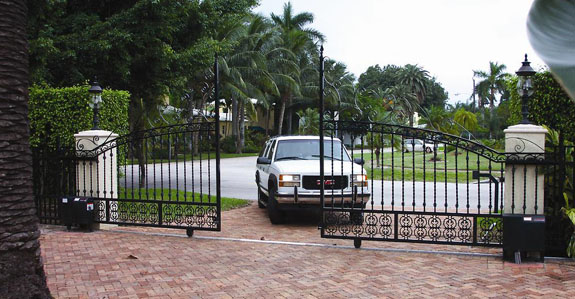 Call For Pricing On ALL Models