Planning for Fences
Before you start planning your fence, it's important to decide exactly what you want. Do you want your fence to keep livestock in? Is it meant to protect your family or business? Is it decorative? How cheap do you need the fencing material to be? How strong? Every fencing material offers different advantages and disadvantages.
Another consideration is the land you'll be installing your fence on. Some areas have different zoning laws you may need to consider before installation. It is also important to speak with local utilities companies before laying out a fence line. When digging post holes, you may be digging or drilling where companies have placed utility lines and this could affect where you place the fence.
Choosing a Fencing Material
While traditional wooden and wrought iron fences are beautiful, these fencing materials tend to cause a lot of problems. Both are extremely high maintenance and don't have the longevity most other choices offer. Chain link fences are a cheap alternative, but may not offer the aesthetic, strength, privacy, or level of protection you're looking for. Ornamental steel is durable and visually appealing, but it tends to be difficult to install and expensive. With all of these drawbacks, where does that leave you? Vinyl and aluminum fencing are excellent alternatives to these other classic fencing materials.
Most aluminum fences are powder coated to resist chipping, flaking, rusting, and fading. Aluminum fencing sections from manufacturers like Jerith can have yield strengths up to 35,000 psi, which is even stronger than most steel fences. Ornamental aluminum fences are also designed to have the look and feel of classic wrought iron fencing. Manufacturers like Delgard, Elite, and Jerith also produce pool grade aluminum fences.
Vinyl is another cheap, easy-to-install fencing option. Manufactured by companies like Bufftech, vinyl fence sections look great on both sides, are protected against the wind and ultraviolet radiation, and offer textures that mimic wood grain and stucco. Vinyl fences don't rust or rot and are cheaper and better for the environment than wooden fencing. Another advantage of vinyl fencing is that it isn't treated with the harmful chemicals typically used to coat wood fences making it safer for kids, pets, and livestock. Vinyl also comes in post and rail like split rail wood fences and paneled sections.
Drawing out a Fence Line
Once you've checked the local zoning laws, spoken with your utilities companies, and decided on the fencing material, it's time to draw a fence line. While it may be possible to use a diagram of your property, you will need exact measurements when ordering your fencing materials. Snow and chain link fencing come in large rolls and most other pre-assembled fence materials come in panels or sections with standard sizes.
You may also need to consider slopes in your property. When working from a property diagram, the property may be measured in a straight line rather than accounting for any changes in elevation. If the property you wish to fence has sloped terrain, you will need to account for the extra distance and either step or rack the fence line. Racking can generally be used for fences on a slope with less than a 10 degree grade. A racked fence is simply one where the fence rails follow the slope of the terrain. (See Below)

With a stepped fence, the holes are punched with different spacing and the fence sections remain horizontal. (See Below)

When choosing a material and manufacturer, keep in mind that some fencing sections are fabricated with pre-punched holes. If you are installing a fence on a slope, be sure to find out whether your choice has pre-punched holes in the fence posts.
So how do you draw a fence line?
At this point, you should have chosen which material and manufacturer you want to use. The main reason is you'll need to know what length the fencing sections or panels come in before you can mark the line since this will help you determine just how many sections and fence posts you'll need to order.
If the manufacturer punches holes in their posts, end posts will only have holes for fencing sections on one side, corner posts will have holes punched on adjacent sides, and line posts will be punched on opposite sides. Most fencing manufacturers also make specialized gate posts which will be stronger to handle the extra weight of a gate.
When walking your fence line to get measurements, keep in mind how far apart your fence posts will be placed. As an example, let's assume you've decided on Avalon style aluminum fencing from Delgard. Avalon comes in 6' sections. This means you'll need an end, line, gate, or corner post every six feet.
When measuring, keep in mind you won't need to make your fence an exact multiple of your panel size. For example, if you have 6' sections, the sides do not need to be 6', 12', 24', etc. Fencing sections and panels can be cut to accommodate any length when installing the fence. During installation, you may either space sections proportionally, by cutting each section to the same length, or using remainder spacing, where the final section of fence is trimmed to the left over space.
Now that you know what you need to keep track of, you can walk the line. Simply go outside on a nice day to the area where you wish to install your fence and measure the line. Marking down every time you need a fence post will make it easier to order materials. If you already have a property diagram with nearly exact measurements and relatively flat land, you may be able to skip this step.
Ordering Fence Sections, Posts, Gates, and Accessories
One you're confident in your diagram, it's time to order parts. In general, you will only need two end posts. You will need one corner post per corner of the fence, not counting each end. Finally, you will need one line post per section of fence, not including any gate posts. Each side of the fence will require the total length of the side of the fence divided by the length of the sections, rounded up for room to trim.

As an example, in the line drawing of a Delgard aluminum fence with 6' sections below, there are 21 sections of fence. The fence is rectangular, so there will only be two end posts and two corner posts. Since there is only one gate, there will only be two gate posts. If you look at the left side of the fence, you'll notice that the fence covers 39 feet. This means there should be roughly 6.5 sections of fencing, or seven fence panels. During installation, you will need the seventh section of fence so you can cut the remaining material to fit the fenced area.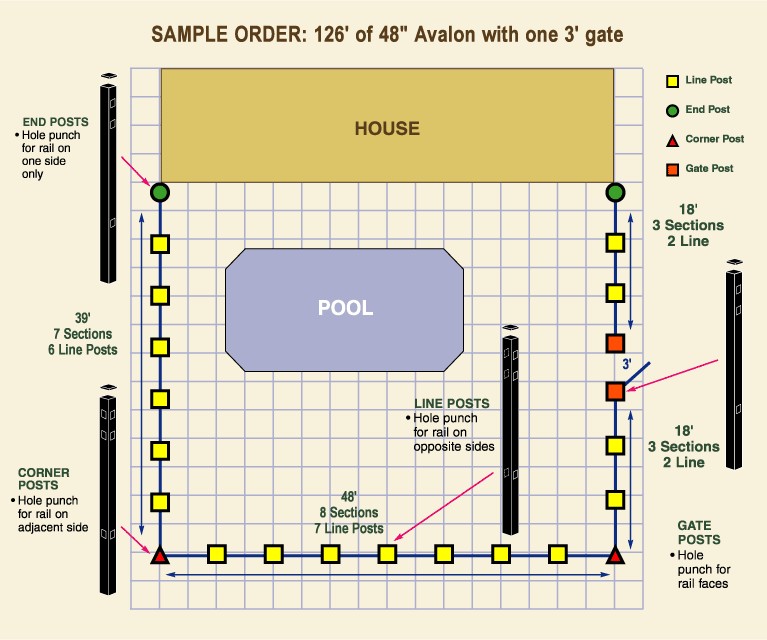 Decide on Additions
Now that you know just how many sections of fence and posts you need, it's time to choose any accents. You may want additional options like lock boxes to make the gate latch more securely or finials, post caps, and decorative top rails to accent the look of your new fence.
Ready to Order?
With your line drawing in hand, all you have left to do is order your materials. You can call us Monday through Friday 8:00am to 5:00pm EST or email us any time at sales@discountfence.com for a fence quote. We're happy to answer any questions and strive to offer the lowest prices on the internet. If one of our competitors offers you better pricing, please contact us. We'd love the chance to earn your business by beating their cost. Remember, the quote must be for the exact same material, style, grade, and manufacturer for an accurate comparison.

Take a look at the variety of different fencing options we offer right now!