Discount Fence Supply sells and distributes Jerith aluminum fences, including the Style 100, 200, and 400 series fences. We also offer Concord, Lexington, Encore Railing, Buckingham, Windsor, and Kensington series aluminum fencing. We distribute aluminum fence posts, post caps, and decorative additions, as well. With a specialized aluminum alloy, Jerith's fencing supplies are as strong as steal and powder coated for maximum protection against wind, weather, and UV radiation. Quite a few designs are even B.O.C.A. pool code approved. Jerith aluminum fences are even manufactured with a screw-less design for easy installation.
Limited Time Only! Additional Discounts OFF
Our Low Online Prices!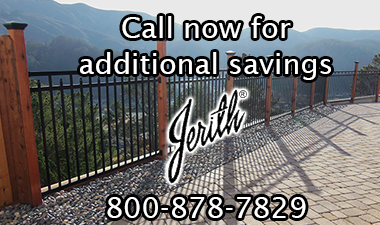 Our goal is to provide the lowest prices on the internet for Jerith ornamental aluminum fences. Since we deal directly with Jerith and handle the shipping, we can pass on the savings to our valued customers. If you place a Jerith aluminum fencing order for $1000 or more, we'll even take an additional percentage off your order. Some orders even qualify for free shipping. Even if yours doesn't, we're committed to offering the lowest prices possible. If you find a better price from one of our competitors, contact us and we'll do our best to beat their cost and get you a better deal. Remember, it must be the same manufacturer, style, and grade for an accurate comparison.
Take a look at the practical and decorative aluminum fences Jerith has to offer today. Once you've decided, check out online or contact us Monday through Friday 8:00am to 5:00pm EST at 1-800-878-7829 or 1-330-650-9226 or email us any time at sales@discountfence.com. Still not convinced? Take a look at what some of our previous customers are saying about Discount Fence and Jerith aluminum fencing.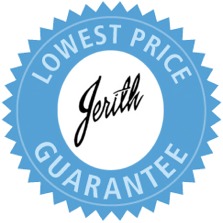 CALL: 1.330.650.9226


FAX: 1.330.650.9004