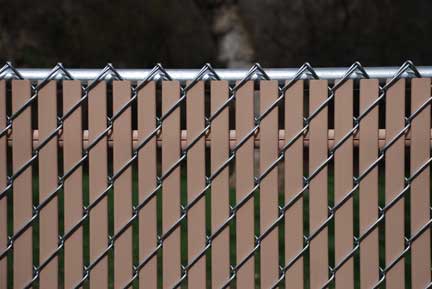 Option Lock privacy slat for chain link fence offer a new innovative way to add both privacy and wind protection to any fence. Option Lock's innovative quick snap in place make installing privacy slats quick and easy. Option lock not only looks good but but has a ribbed slat that goes down the middle for added strength and durability. If you are looking to add privacy to your chain link fence, then option lock privacy slats is the perfect product.
This privacy slat provides an economical and attractive way to enhance any chain link fence. The locking system is can be installed on either the top or the bottom to ensure a clean, straight edge along the fence.
OptionLock™ privacy slats offer a new patented system which easily secures the PVC slats into place at the top or bottom of the chain link fence (whichever you decide) providing a clean, even look. Each bag of slats will cover about ten linear feet.
HDPE Technical Properties
Melt Index (.6) A low melt index is an indication of improved stress and crack resistance.
Density (.957) Polyethylene varies from .914 to .960 in density. A higher density yields maximum stiffness without
becoming brittle.
Minimum Temp. (-76° F) Polyethylene will stay flexible even at this extreme temperature.
Maximum Temp. (250° F) Polyethylene will not distort until reaching this temperature.
Tensile Strength (3,700 psi) Material will not suffer distortion at lesser impacts or loads.
Durability:
HDPE products distributed by Discount Fence Supply, Inc. are resistant to severe weather conditions, salt water, sand, road dirt, most acids, alcohol, alkaline, ammonia, petroleum distillates and common environmental pollutants.
Color Disclaimer
Because of limitations and variations in the printing and graphic process, the color guide shown is to be used as an approximation of the actual slats. Colors are industry standard.
Chainlink Mesh Size
Available for 2" , 2-1/4" , 2-3/8"
A standard chainlink mesh size is usually 2"
The same size slat is used for either 2-1/4" or 2-3/8"
Slats for 1-3/4" mesh chainlink are only available on orders of 50 bags or more (30% Upcharge)
Limited Warranty
OptionLock™ carries a 25 year limited warranty to the original buyer against breakage under normal conditions.