Invest in your property for the foreseeable future. When you choose aluminum fencing from Elite, you're getting quality and strength with virtually no maintenance. Imagine the look and security of steel with a design guaranteed to impress your neighbors. Read on to see why EFS-55 ornamental aluminum fence is perfect for almost every application.
With a unique blend of design and durability, EFS-55 convex spear top fences are pre-assembled with 1-1/8"x 1" rails, 5/8"x 5/8" pickets, and use 2"x2" or 2-1/2"x 2-1/2" aluminum posts. Each Elite aluminum fencing style is available in several grades to suit both residential and industrial applications.
Pick from seven distinct powder coating finishes. Black. White. Quaker Bronze. Walnut Brown. Beige. Hartford Green. The EFS-55 can be powder coated to perfectly complement your property and comes with a manufacturer guarantee against chipping, rusting, cracking, and defects. Residential fencing sections can be purchased in 3', 3 1/2', 4', 5', and 6' height options with either 3 13/16" or 1 5/8" spacing between aluminum pickets. Commercial is available in 4', 5', and 6'. Industrial grade is available in 4', 5', 6', 7', 8', and 10' heights with either 4" or 1 1/2" picket spacing.
Entry and exit systems are available in a variety of grades, styles, and powder-coated finishes to match Elite's fence styles. Single and double swing gates match the look of the EFS-55 ornamental aluminum fence style. For larger and industrial fencing, consider an estate or curved top gate. Elite also manufactures exclusive ZipTrack™ aluminum cantilever gates for gated communities and industrial complexes.
Customize your new aluminum fence with accessories and decorative additions by Elite Fence Products. Our catalog includes butterfly scrolls and circles to enhance EFS-55 aluminum fence sections. Select tri, quad, and fleur-de-lis finials and fence ball toppers. Our catalog also includes several parts, like gorilla hinges, lock boxes, floor flanges, and magnetic latches. Most parts and accessories can be given a gold finish or powder coated to match the aluminum fence's finish. Order your Elite aluminum fence and accessories today.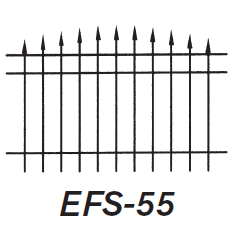 ---
Gallery
---